Rewiring
Yes, of course we can upgrade the wiring in your lamp or chandelier!
Over time, plugs, wiring and sockets can wear out, get damaged, and often need replacing.  If you bought an old fixture at a flea market or estate sale that was marked "works", you definitely should have it inspected for safety if not have it entirely rewired.  "Works" does not mean it's electrically safe. Old wiring is subject to becoming brittle or rotten and can become an electrical hazard.  
The base charge for wiring is 30 minutes in labor plus the cost of parts. No two projects are alike, but simple parts for a basic lamp can be very inexpensive. Most of the time a lamp will cost $50 for a basic rewire with new plug. All items are rewired with new materials and come with hardware ready to install. We add a ground wire to all fixtures unless it's a fixture where it is not possible to ground or is unnecessary.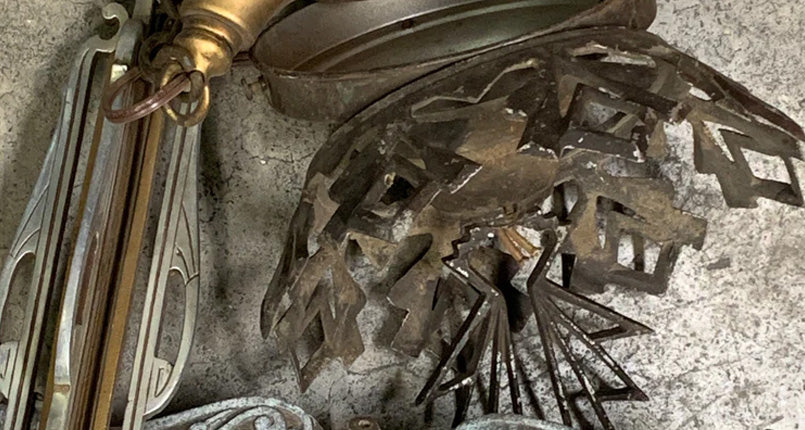 Buying and Selling
Yes, we buy old fixtures!    
We're always looking for great pieces, whether they be complete, broken, or just for repair parts.  We purchase in all conditions and state of disrepair.  It's essential to see what you're offering, so please let us know what you have, your location, and we'll reply so you can attach photos.
Safety Inspections
If you have an old fixture that has not been in use, or is not working properly, checking it for electrical safety is a wise idea if only for peace of mind.   Old brittle wiring and old sockets should be replaced if not in good condition.
Our shop is not certified by Underwriter Laboratories, aka "UL LISTED".  However, if you have a project that requires a UL listing we can also get a similar safety listing from the City of Los Angeles testing labs.
Restoration and Repair
Have an old lamp or chandelier that needs to be spruced up?
We can certainly do that!  When it comes to restoring old fixtures, no two projects are alike.  Sometimes just a good cleaning does wonders for the finish, but other times it means total refurbishment. We can do polishing and plating in all finishes (nickel, brass, chrome, etc), though we send these out to our partners.  We can also make new parts in various materials including aluminum and bronze.  Here you can see before and after copper plating, and a cast aluminum replication of a missing original finial.  Seeing photos of your piece is the minimum amount of information needed to assess the project.    
Restoration Stories
Alterations
It's normal to update vintage fixtures to mount to a modern junction box, but should you need a different mounting method we can accommodate special applications. Height can be adjusted on most fixtures by adding or removing chain or or cutting or adding tubing. Please inquire as each project is different.